Provider Profiles
Carmichael's Home Medical Equipment
This Georgia-based provider embraces a balance of retail and reimbursement
Less than 50 miles outside of Atlanta, Ga., in the town of Monroe, optimism is flourishing when it comes to the home medical equipment (HME) business. Tucked in the Alcovy River Basin between Georgia's metropolis and the Victorian/hip city of Athens, Monroe is an area of antebellum mansions, handsome old government buildings and an historic downtown. Some 13,234 people call it home, as does Carmichael's; a three-pronged business that includes a pharmacy, HME and a Hallmark store.
The pharmacy dates back to 1903, when tonics and potions were the staples. The Hallmark store and the HME segment are later additions. Indeed, Carmichael's Home Medical Equipment opened only six years ago, just about the time the Medicare competitive bidding axe was being sharpened and reimbursements for oxygen and mobility products were headed for the chopping block.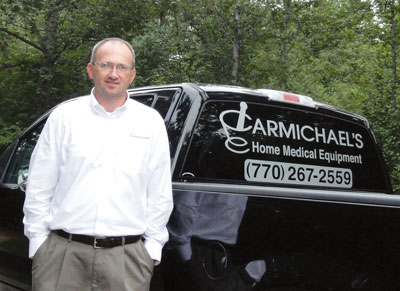 It wasn't an opportune time to open an HME store. But there was this need, you see, and Carmichael's has built its reputation on fulfilling needs. Indeed, if you ask Bill Cheek—who, along with owner Greg Hickman, opened Carmichael's Home Medical Equipment—about the folly of starting an HME business when it seemed that the industry was about to destruct, he would tell you it's not so much about the equipment as it is about the patients. "If you're just in it from a business standpoint, I don't know that it's something you want to be in," says Cheek, a respiratory therapist (RT). "It's about the people, really."
Cheek is not oblivious to the need for a strong bottom line. He knows about the pitfalls of competitive bidding—Monroe is, after all, in Round 2 of the program—and he has had to grapple with debilitating audits and declining reimbursement. He is convinced, however, that if you take care of your customers and fill their needs, you'll be successful.
So far, that business model is paying off for Carmichael's. Even as Round 2 of competitive bidding looms, the company has opened a second location 20 miles away in Covington and it has just signed the lease for another store in Winder, some 15 miles distant.
The key to this success? Retail sales. It's part of Carmichael's strategy not just for staying alive, but also for continuing to thrive. "You can throw in the towel and quit, or you can take pride in helping people and giving people jobs," Cheek says. "That's the line I'm going to take."


On the Road to Retail

Carmichael's has a lot of the ingredients that make up a successful HME company. The Monroe location is two blocks away from the town hospital and boasts 19,000 square feet, about 2,500 of which is HME showroom space. It's been around for well over 100 years, so there is high name recognition, and the Hallmark section and pharmacy generate plenty of foot traffic.
"The foot traffic is really our advertising," Cheek says about the HME sector. "We don't do a lot of print advertising. When people come in, there may not be a need right then, but they see what we have and they know where to get it when they do. It's low-cost marketing."
While Carmichael's specializes in respiratory and CPAP, it's a full-line HME store, providing everything from those mainstays to hospital beds, wheelchairs, nebulizers and diabetic supplies. Its retail sales are lively, with lift chairs, rollators, bathroom safety products and compression hosiery topping the list of popular items. Another plus is that Carmichael's HME is well staffed, with five RTs—including Cheek—and 20 or so total employees. On the minus side, there is the seemingly endless decline in Medicare reimbursement, and the company's revenue is approximately 50 percent Medicare.
"I hope to always be in the Medicare market, because those are the patients we serve," Cheek says, noting that Carmichael's HME is active in all competitive bidding categories except enterals. "That's our demographic, that's who we take care of and that's whose needs we try to meet."
Still, there are all the costs associated with filing Medicare claims and just being a part of the program with all its attendant red-tape trappings. Cheek says that Carmichael's, like so many other HME companies, struggles with Medicare audits, which can stall payments for many months. "I think the biggest challenge is competitive bidding and the audits. We have a full-time person now just focusing on audits and getting our money back," he says. "That's something we didn't have a year ago."
With all of this, and the fact that reimbursement is on a downhill slide, Cheek has taken steps to cut costs. He's reduced employee overtime and outsourced billing, which has improved cash flow. He's also trying to decrease the number of deliveries. "We're trying to go to nondelivery oxygen. We're not doing it for everyone; we're just doing it for our high-tank users. We're trying to target our patients who could benefit from it the most and help us as well."
comments powered by

Disqus