HME Products
Portable Oxygen on the Rise
Improved reliability suggests big changes
Now reading Page 3
Comparing POCs to mass-market technologies, such as VCRs and DVDs, Hughes says he sees about a 10-year period between introduction and full market adoption. He predicts the next three years or so will see greater market adoption. "It depends on the manufacturers of the devices," he says. "It's the free market at its best. There will be companies that will succeed or fail." Other factors in the market are the financial and political aspects of Medicare and general caution about abandoning an older model. "A lot of people are pushing to keep the status quo," he says.
"Fear in the DME world" about portable oxygen devices has led to overly negative and critical comments about POC devices, Hughes says. He attributes the negativity to concern about a threat to the profitable recurring revenue business model of home delivery. "Medicare won't move fast, but at some point the model of a POC for home use or for the patient's use during the day could diminish DME providers' ability to capture the business," he says.
The best target for education about POCs is the patient, Hughes says. It's hard to get physicians or referral sources interested in new products, but convincing the patient of the benefits will also get that message back to the doctor. "The patient drives it, and they can push the doctor," he says.
The Long View

Providers can be more successful promoting portable oxygen products by illustrating to patients and their caregivers how quality of life can be improved, in particular with the appropriate lightweight solution that provides mobility for extended periods away from home. Rental is a more advantageous option for both the provider and the patient, says O'Brien of AirSep. For the provider, renting oxygen concentrators creates greater revenue and profits throughout the equipment's useful life, compared to the one-time profit generated by a sale. "Many more patients can afford a smaller per-month payment than an outright purchase," says O'Brien. Medicare reimburses for portable oxygen concentrators as part of the newer OGPE category.
Embracing a nondelivery model can save costs for providers. This relates to escalating fuel costs, says O'Brien. Offering POCs solves travel and logistics concerns that affect the HME provider's bottom line and is an effective and welcome option for patients.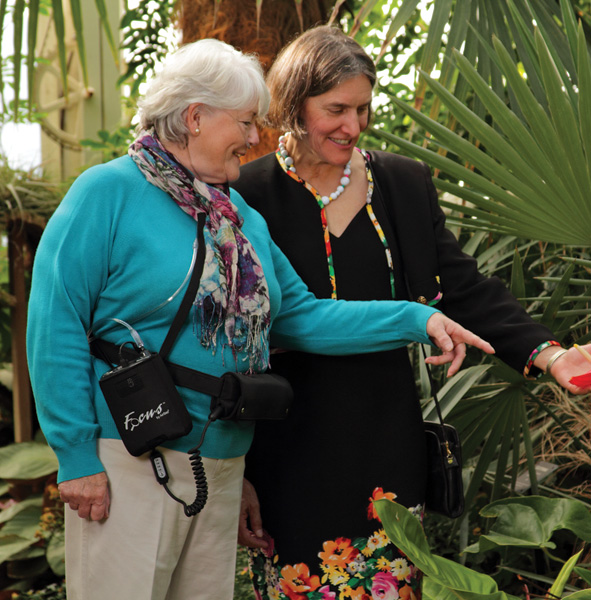 AirSep's Focus POC weighs less than two pounds and never needs refilling.
Choosing the right oxygen supplier often comes down to support, says LaPorte. "Who will be able to best support the provider to grow and be a successful company? Providers make a choice according to which suppliers can help their business grow."
In general, in the oxygen market, approximately 75 or 80 percent of patients are supported by Medicare. The first round of competitive bidding lowered the allowables for portable oxygen significantly. Lower upsides have discouraged some providers from investing in portable oxygen. "A longer-term view might be: Is this something that will help me retain patients?" LaPorte says.
A broader understanding of the economics of portable oxygen can help to ease concerns about higher equipment costs, he adds. Providers now deal with increasing operational costs related to filling, delivery and regulatory aspects of oxygen cylinders and investments in delivery trucks, which will all go away. "If you're a provider and you can fix those costs by investing in technology, cash flow will look better month to month with fewer variable costs," says LaPorte.
To make more money on portable oxygen equipment, LaPorte suggests providers invest in public relations and advertising, including expanded showrooms, websites and social networking. It's also helpful to invest time with physicians and referral sources to educate them on what POCs can do for patients.
LaPorte also recommends that HME providers open their minds to working with nontraditional partners, such as travel agents, who might be interested in portable oxygen to help a customer realize future travel plans. He also says providers should support schools and community events—anything to get their name on the minds of potential medical device consumers.
Some customers are opting to buy a portable concentrator in a cash sale to complement their stationary device. POCs are being sold for $4,000 or $5,000 on the Internet. Baby Boomers with disposable income may opt to pay cash for a POC, says LaPorte. Research suggests those who walk when using oxygen tend to live longer. Simply speaking, portable oxygen could extend life expectancy. Portable concentrators are a more flexible and dependable system than relying on the "ticking clock" of a portable cylinder, LaPorte says.
Beware of Product Claims

New product development also includes high-technology POCs with increasingly effective conservation technology, Drive Medical's Yoel says. "A POC is intended for use primarily during activity, a time when respiratory rate often increases," he says. "Extensive data shows that well-designed pulsed-dose units can oxygenate patients as well as or better than continuous flow."
comments powered by

Disqus