June 2011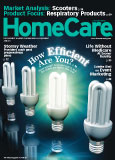 Lincare CFO Paul Gabos doesn't think much of CMS' handling of competitive bidding. At a mock auction held by economist Peter Cramton in early April, Gabos pointed to the lowball bids in Round 1....
Read more >
So, what's event marketing? I like to think of it as an exciting themed activity, occasion, display or exhibit to promote a product, cause or organization. An event has more going on than a sale or...
Read more >
Every year we are invited to a selection of social events like birthdays, anniversaries or just to celebrate good times with special friends. We go with excitement and enjoy the process of selecting...
Read more >