Mobility can transform one's life experience and open new worlds of possibilities. Just ask any user of a wheelchair or other mobility device—or take a look at Choppers and Whiskers.
They are two female chihuahuas, both born without front legs, who captured the hearts of the Spartanburg, S.C., community after a local CBS-affiliate television station, WSPA, did a story on the dogs. Other media picked up the story, including the local Fox and NBC stations, the local newspaper and even the Daily Mail of London. Local donations helped pay for two-wheeled carts the dogs now use for mobility.
The dogs came to the Spartanburg Humane Society when their owners could no longer care for them, and helping the animals become mobile was the first step toward placing them in new homes. The Humane Society originally approached Maranatha Farm, which supplies custom-fitted wheelchairs for disabled animals, but Maranatha does not offer the front-leg carts the chihuahuas needed.
Maranatha Farm referred the Spartanburg Humane Society to Eddie's Wheels of Shelburne Falls, Mass., a supplier of carts engineered and designed for pets with disabilities, including carts for animals with front-leg disabilities. The carts are fabricated out of lightweight solid aluminum rod, with machined fittings and stainless steel hardware. Maranatha Farm made a donation to pay for one of the chihuahua's carts, which cost about $400 each.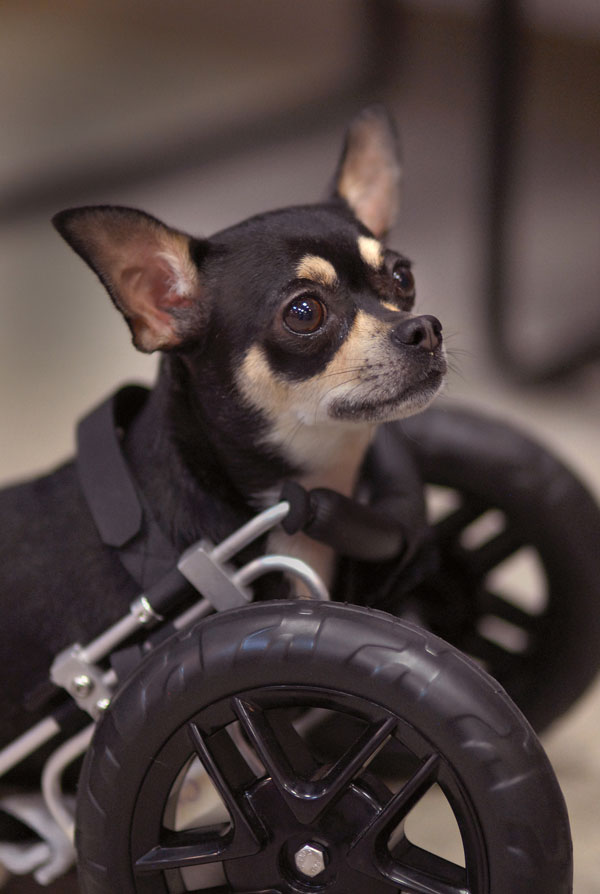 The Spartanburg Humane Society worked to familiarize each dog with using its apparatus. Both Whiskers, a two year-old, black and tan short-haired chihuahua, and Choppers, a three year-old, black and white long-haired chihuahua, now use the two-wheeled devices and have been adopted by new families. "Providing them with carts and wheels gave them a sense of freedom they haven't had before," says Katie Freseman, director of communications, Spartanburg Humane Society. "Never underestimate the value of good medical care."
Before the new carts Choppers was able to hop around upright on her hind legs which, ironically, made it more difficult for her to adapt to the new device. Freseman compared the situation to the challenge of convincing a toddler to learn to walk when they have already mastered the skill of crawling fast, which to them seems more efficient.
However, a dog's hind legs are not designed to accommodate their entire weight, and walking on two legs can cause arthritis or other problems down the road. In addition to using the carts, the dogs had to learn that using the wider wheels meant they could no longer fit through some small spaces.
Fulfilling Choppers' and Whiskers' need for mobility was just another day at the office for Eddie's Wheels, which has been helping disabled dogs and other animals since 1998. A mechanical engineer by trade, Eddie Grinnell incorporates high engineering standards with special consideration for each pet's unique disabilities and anatomy. Eddie's Wheels currently has 14 employees, in addition to a sales contractor and a welding contractor.
Like HME providers, Eddie's Wheels works to expand its referral base, going to veterinarian and animal rehabilitation conferences to spread the word about the business. The company also advertises in veterinarian magazines and participates in a veterinary information listserv. "There's buzz," according to Leslie Grinnell, president of Eddie's Wheels. "One vet tells another and very often vets find out about us from their clients, who find us by searching the Internet."
In addition to providing the hardware, Eddie's Wheels teaches animal owners how to train their pets to use the apparatus, sharing videos on YouTube to help evaluate any problems. Even if referred by a veterinarian, Eddie's Wheels ultimately works directly with the pet owner. The carts are often designed long-distance based on exact measurements of the animals, as was the case with Choppers and Whiskers. "Caregiving is a big piece of it," says Grinnell.
"You see a reaction when you give someone a device that enables them to do something they couldn't do before," says Freseman, who previously worked for a nonprofit organization helping people with special needs. "It's the same with dogs. Whiskers, especially, can now just get out and see things she has never seen before; she can just come out of her shell. It has a huge impact on her life."