Footwear
Catering to Baby Boomers' Needs and Style Sense in Therapeutic Footwear
Understand this market's needs and wants
Dr. Comfort's shoes are fashionable, comfortable and customizable to help manage many foot conditions.
Baby boomers looking for therapeutic footwear today are part of the original Nike generation and have spent much of their lives wearing athletic shoes. They want to be fashionable, and therapeutic shoes now meet that desire with a range of options from running and court styles to walking shoes.
Baby boomers now entering the market for therapeutic shoes are driving an emphasis on appearance as well as benefits. "Baby Boomers are not willing to compromise on look and style," says Cecilia Lauerman, Propét USA brand manager. "In fact, the most frequent comment we get at trade shows is 'I want something that doesn't look like a Frankenstein shoe or your traditional therapeutic shoe.' "
"We want to provide footwear that is good looking and healthy for their feet," says Matthew Schwartz, executive vice president of Aetrex Worldwide. He says Aetrex's successful and growing consumer footwear business provides lessons to guide design of the Apex therapeutic footwear line, sold through HME providers. "We bring that knowledge to bear in the styles, the kinds of leather, patterns, embellishments—they all reflect lessons we have learned in the consumer market."
Schwartz also says manufacturers have worked to remove any obstacles for providers looking to enter the footwear 
market. Apex provides an aggressive 
30-day guarantee, and the dealer can 
return products at no charge. "The policies, programs and products all make it incredibly easy to operate this business—
and it's profitable for the dealer," he 
says. Apex has a full-time, trained sales force, available for the dealer to call 
upon to help educate referral sources about how the products benefit patients.
Getting into therapeutic footwear isn't complicated for HME providers, and it doesn't take a lot of investment—just a simple display in the store and a Certified Pedorthist (C.Ped.) fitter. It's possible for either an employee to get certified or to have a certified fitter work in-store on a contract basis, say for a half hour on Friday afternoons, says Charles Liberge, executive vice president of sales/business development at Orthofeet. In the case of Orthofeet, there are no large inventory costs, just a fitting inventory of 25 pairs of shoes; customer orders are shipped within 48 hours. Customers can have their shoes within two or three days—and the entire investment for an HME provider could be less than $1,000.
Lighter Weight, Better Comfort
Among the product trends is a swing back from a recent emphasis on minimalism, with shoes that are now more biomechanically inclined and take advantage of newer materials. "Shoes are getting lighter and lighter, but they still feel comfortable and supportive, despite how light they are," says Lauerman of Propét. "Older consumers who get a little unstable on their feet don't want the extra weight."
Propét USA has a therapeutic shoe line (A5500-coded Medicare-reimbursable) and also a retail line. Propét has launched the Rejuve line of shoes, podiatrist-
designed products intended to cup the heel and hold the foot in its natural position during heel strike so the walker doesn't over-pronate. (Pronating refers to the inward roll of the foot while walking or running; over-pronating can cause stress on the lower body that aggravates foot conditions or foot and ankle pain.) Rejuve's spring line will include sandals and flip-flops, and a line of closed-toe shoes featuring outdoor styles and women's slippers will debut in the fall.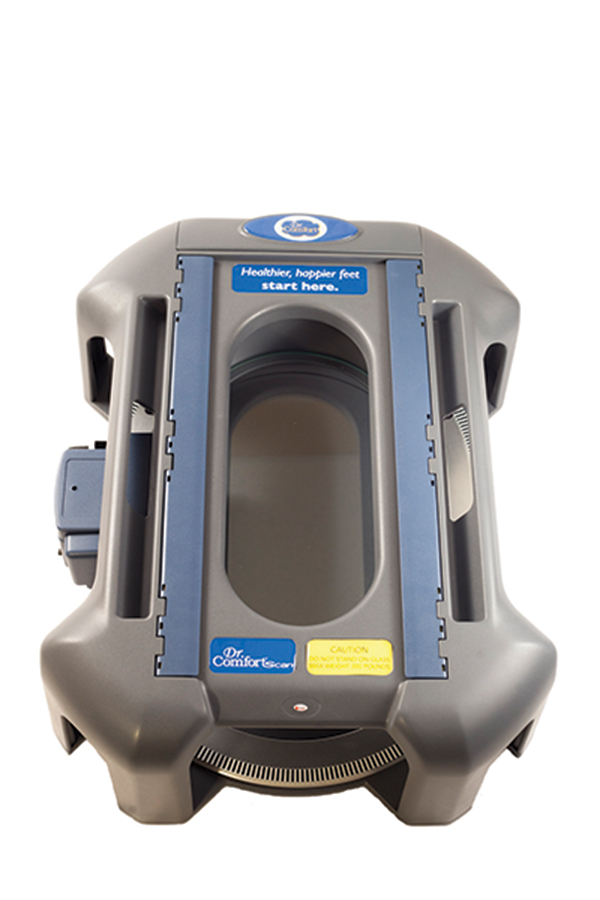 Dr. Comfort's orthotic scanner captures more than 30,000 data points to provide a true 3-D image.
Propét is also launching AdaptaStep, a shoe that provides variable flexibility in the outsole for post-op or post-
trauma patients, helping them progress to a natural gait more quickly. For those who are more sedentary and can't wear regular shoes because of swelling, Propét's Cronus is a stretchy neoprene-style slipper that opens completely on the top for anyone who has difficulty getting around or is recovering from an illness.
Lauerman recommends HME providers stay focused on the product lines that appeal to customers coming into their store, emphasizing shoes that are supportive and comfortable and that offer more athletic and casual styles suited to wear for long hours. Until they get a handle on local customer preferences, providers should limit their options to a few styles—maybe an all-around walking shoe and the Cronus slipper if the customer base uses wheelchairs or tends to be sedentary.
Highlighting Features 
and Benefits
Education is an important aspect of building footwear business for an HME provider. Customers have to be educated about why it's important to have shoes that properly fit their feet and offer various orthopedic features and benefits, says Liberge. Customers also need shoes that fit their lifestyles, whether they're sandals, boots, sneakers, shoes or slippers, he adds.
The Medicare benefit for diabetic shoes covers one pair of shoes and three pairs of diabetic inserts per year. A lucrative cash sale opportunity is to sell customers additional pairs of shoes, at around $140 each, because everyone needs more than one pair. The cash price tag is on par with a typical premium shoe (and with a retail margin above 50 percent), Liberge notes.
There is also unrealized opportunity related to reimbursement. Liberge notes that physicians have to be involved in the process of getting Medicare reimbursement, and sometimes they have to be chased down to get the appropriate information. Perhaps because of the extra effort, only about 1.5 million of the 6 million patients eligible for Medicare reimbursement take advantage of the diabetic shoe benefit.
comments powered by

Disqus