Leverage this trend for improved business opportunities
Wednesday, December 18th, 2013
HME providers are working hard to find new sources of revenue to replace losses from Medicare cuts and challenges resulting from competitive bidding. Leveraging the bariatric trend can be a profitable advantage for HME providers that are looking to expand and diversify their business. This is especially true given that the bariatric population is continuing to grow, creating an ever-expanding market for bariatric equipment and supplies. Currently, 30 percent of the U.S. population is considered obese (as measured by a BMI of greater than 30). That proportion is expected to increase to more than 44 percent in all 50 states by the year 2030, according to studies conducted by the Centers for Disease Control and Prevention (CDC). Caring for the increasingly bariatric population can be a challenge, regardless of whether it is in a home care situation or an institutional setting. Bariatric 
patients fall more often, are more seriously hurt when falls occur and result in more injuries to their caregivers due to their heavier body weights.
Two Market Opportunities
HME providers can pursue two different bariatric market opportunities. The first market opportunity is on the home care front. Providers can offer free home assessments—evaluating every room of a patient's home to identify additional 
necessary bariatric equipment and/or physical home modifications. Maintaining a checklist can make this assessment process an efficient procedure. The checklist walks you through every room of the house—ensuring that you consider the appropriate strength (weight capacity) and size (width of beds and chairs) in the home. By performing these home assessments, you can recommend product purchases, which will drive your sales. You can also make helpful recommendations on home modifications (widening doorways) that a caregiver may not be taking into consideration.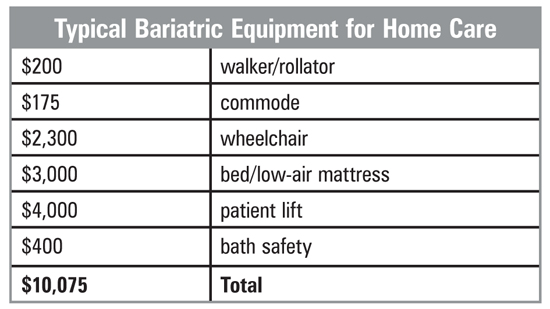 Exhibit A
The second market opportunity is the institutional market (hospitals, nursing homes, rehab facilities). Providers can offer a similar assessment of a health care facility to identify needed bariatric equipment and/or building modifications. The checklist for this market contains subsections of items that are specific to institutional areas including operating rooms, patient rooms, rehab areas, waiting rooms and test labs, to name a few. The assessment can be performed for a fee or offered as a free service. Similar to the home care bariatric assessment, the HME provider will be in a position to offer new equipment and recommend facility modifications to accommodate the bariatric patient. The provider can also recommend additional services, including equipment setup, training, preventative maintenance and repair services. Annual preventative and repair maintenance contracts typically cost 5 to 10 percent of the initial equipment purchase.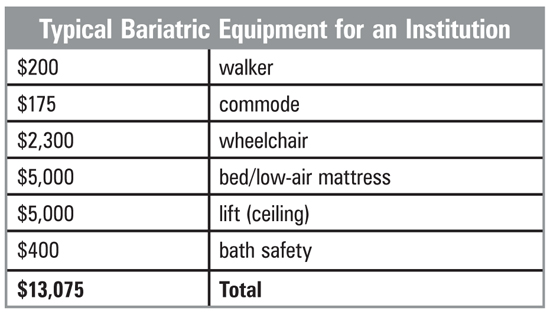 Exhibit B
Market Potential
A typical home care bariatric equipment setup can cost up to approximately $10,000 (see Exhibit A). A typical institutional setup can cost app-
roximately $13,000 (see Exhibit B). Other pieces of equipment and supplies (respiratory, incontinence, etc.) can be sold in addition to the durable medical equipment shown in these exhibits. Taking into consideration an average number of accounts which can be "closed" in the span of a year, we estimate that a typical HME provider can make upward of $290,000 in increased revenue between the two market opportunities (see Exhibit C).
Establish a Bariatrics Program
Become knowledgeable and conversant about bariatrics—learn all you can. This includes understanding how obesity is measured, what health conditions are associated with obesity, the percentage of obese people in your state, psychological aspects of being obese and other topics that will increase your understanding of obesity and demonstrate your expertise to referral sources and your customers.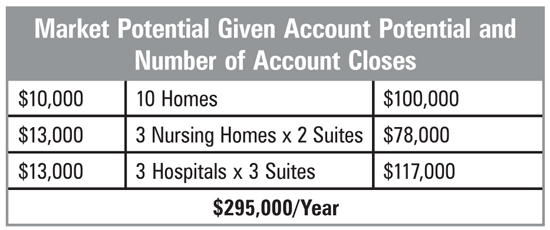 Exhibit C
Add more bariatric equipment and supplies to your product offering. At a minimum, your bariatric offerings should include: bariatric beds, commodes, wheelchairs, bath safety, incontinence, skin care, respiratory and powered patient lifts. When selecting equipment, make sure it is built to last. 
Bariatric equipment undergoes a lot of stress due to the higher body weights, and you do not want to increase your liability by purchasing inferior equipment. Market your bariatric program aggressively. Your marketing efforts should include multiple vehicles for getting the word out. Add a message to the home page of your company's website telling your customers that one of your specialties is bariatric products and home/facility assessments. Create a brochure that announces your company's bariatric program to highlight the products you carry, and explain what a home/facility assessment entails. It is always a good idea in any of your marketing materials to show photos of your staff—along with a short bio on key members of your staff. This not only makes the brochure more friendly and personable, but it builds credibility in the eyes of your 
referral sources and customers. Mail your brochure to current and past customers, referral sources (discharge planners, nurse case managers) and key institutional individuals if you are targeting hospitals and nursing homes. This should include the employee health manager, risk manager, nursing home administrator, rehab manager, patient transport manager and others who are responsible for bariatric units, patient handling or falls management within the institution. Finally, host events to educate your referral sources and customers on bariatrics and showcase your new program. These events help to establish your reputation as an expert and a reliable source for products and solutions in this market.