Provider Profiles
Carolina's Home Medical Equipment
This company parlays "extreme service" into continuing growth
In Franklin Trammell's view, "If you're not growing, you're backing up." That philosophy has helped the founder and owner of Carolina's Home Medical Equipment in Matthews, N.C.—"just a tenth of a mile from Charlotte"—to successfully navigate the treacherous waters of the current HME industry, particularly Medicare's competitive bidding program and its debilitating audits. It has also steered the company into posting an astounding 80-percent growth rate over the last three years.
Inc. magazine recognized that growth in its sixth annual 500/5000, which rates the nation's fastest-growing private companies based on percentage revenue growth. Revealed in August, the listing saw Carolina's placing 231st of 500 in the health care industry and 2,849th overall.
Despite the grim outlook for reimbursement for HME, Trammell is confident that his growth will continue—at least for another year. "There is no reason at all to think that our growth will not at least continue at the pace we have been on," he says. "After 2014, when Round 2 of the Medicare competitive bidding program begins, who knows? It depends on the bids we win. I am as optimistic as I can get."
How has Trammell fostered such success in these trying times for the HME industry? The answer is not in opening a multitude of locations. It is, instead, in his shrewd ability to identify potential areas of growth and to also build on his company's reputation for what he calls "extreme service."
A Good Thing to Do

Trammell's career plan never included HME—far from it, in fact. For 29 years he worked in corporate America as an executive in a Fortune 100 company in the textiles industry. About a decade ago his career derailed when the entire industry moved to Asia. "At the same time, my father suffered from a series of strokes resulting in numerous hospital and rehab stays. This was my first introduction to our industry. Prior to that I didn't even know the DME industry existed. My family had a very difficult time dealing with the fact that our once very strong patriarch was no longer independent, but quite the contrary. We were never formally introduced to our great industry, and had we been, things would have been far better for us."
Trammell found himself thinking long and hard about what his family was going through. The textile industry in America was dead, and he needed a new career. "As corny as it sounds," he says, he decided that getting into HME might be an opportunity to help people cope with issues such as those his family had encountered. So he set about doing the due diligence and learning about the dynamics of the industry. He talked to people at manufacturers like Invacare and Pride Mobility, spent time with a friend from the textile industry who had opened an HME company and he even read the Medicare manual.
"This looked good to me, and like something that could not be outsourced to China," Trammell says, noting one of the huge positives of the industry, even in these uncertain times.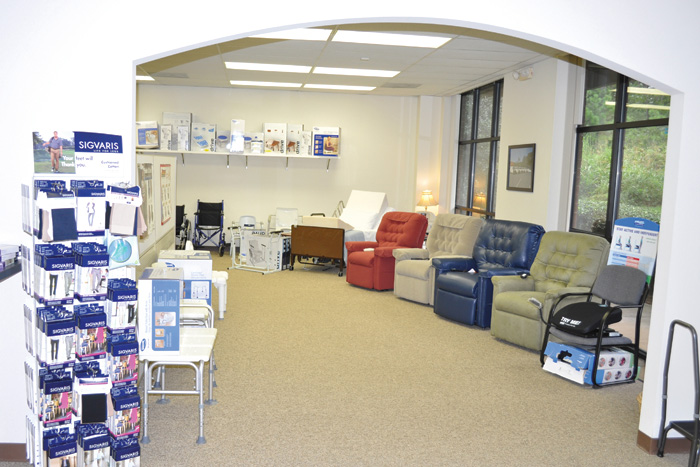 So, in November 2003 he and his wife Martha opened Carolina's Home Medical Equipment, a full-line HME company that only excludes high-end rehab. "My wife and I made a decision early on to never deviate from our core values," he says. "We handpicked our staff very carefully, being sure that our values were properly aligned. Quality products, extreme service, diversity of thought and highly ethical standards continue to be the basis of our business."
That "extreme service" component was one he brought from the textiles industry.
It was a given in that business, he says. "In the HME industry, that was not a given. If you are the new kid on the block, the only thing you've got to separate yourself from everyone else is not just good service, but the best service. It just caught on. Even with reimbursement going down, I continue to buy the highest-quality products I can find. I'm even stepping up the quality. It will pay back in the long run."
Carolina's employs 23 people and they are all dedicated to the concept of extreme service, Trammell says. He is so proud of them that a photo of each employee—as well as one of Henry the bird and Holly the dog—appears on the company website, along with customer comments reflecting on their service. One such testimonial lauds Carolina's employees for helping a health care facility during a flood.
"The crisis was very overwhelming for us, and their help was invaluable in helping us evacuate the neighborhood. Both of your men were willing and able to do whatever was needed to help, including pushing beds down the hill and giving up their jackets to keep our residents warm. I want to assure you that we will continue to support your organization and we appreciate all that you do for us."
"What a breath of fresh air!," writes another customer. "Terrell [Harper, the company's patient service manager] went above and beyond all expectations and was so helpful and pleasant to work with. His smile was infectious. This man needs to win some type of service award. In today's time it's hard to find high-caliber workers in the service industry. Let me tell you, you have a gem."
comments powered by

Disqus